Skip to Content
Creating Your Comfort Zone
Window treatments can go a long way toward boosting your home's energy efficiency, keeping you comfortable. That's because compared to insulated walls and ceilings, windows easily allow more heat to escape from a room in winter and more heat to enter a room in summer. In fact, without energy-efficient window coverings, a home can lose up to 30% of heating and cooling energy through its windows, according to the Department of Energy.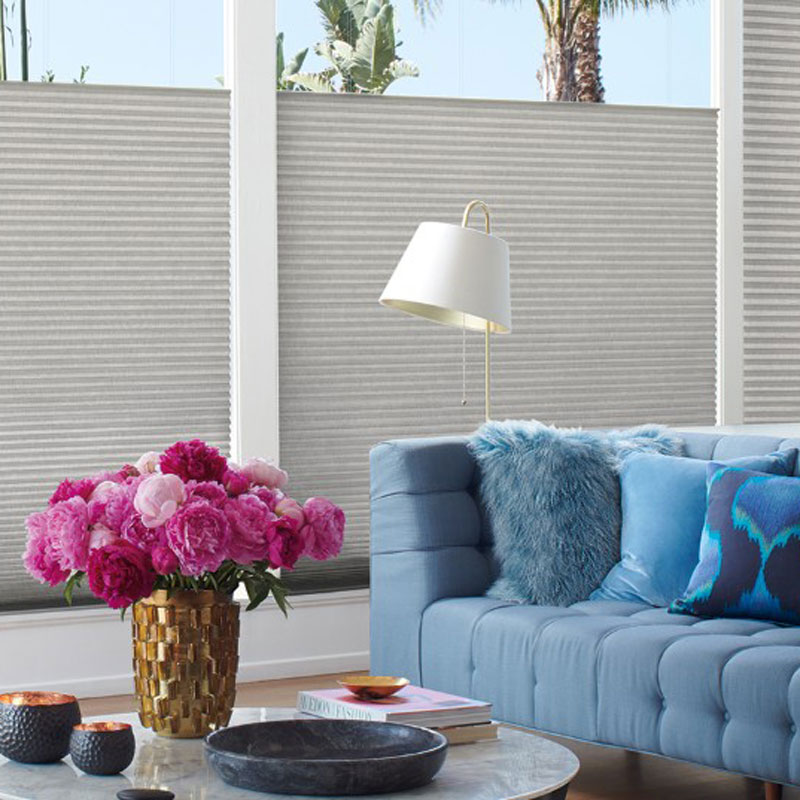 Duette® Honeycomb Shades
How Window Treatments Improve Energy Efficiency
Window treatments help with a home's energy efficiency by providing insulation, controlling solar heat gain, and by using natural light to reduce the use of electric light (called daylighting), which saves energy. Here's a look at each—and how they help create your comfort zone.
Providing Insulation—Winter/Cool Climates
In winter, or if you live in a cool climate, window treatments help insulate at the window, preventing heat from escaping and keeping a room warmer.
Open your window treatments during the day so that free solar heat from direct sunlight will warm your home.
On cloudy winter days, close your window treatments to add an insulating layer to your house that will keep warm air in.
At night, close your window treatments to add that insulating layer.
Controlling Solar Heat Gain—Summer/Warm Climates
During the day, close your window treatments to prevent the sun's harsh rays from heating up a room, keeping it cooler (so your A/C doesn't have to work as hard).
At night, keep your window treatments closed to keep the cool air in.
Using Daylighting
Natural light illuminating a room can make it more inviting, and may even boost your mood at the same time. You can maximize natural light with window treatments that draw it into a room, reducing the need for electric light, which reduces energy use.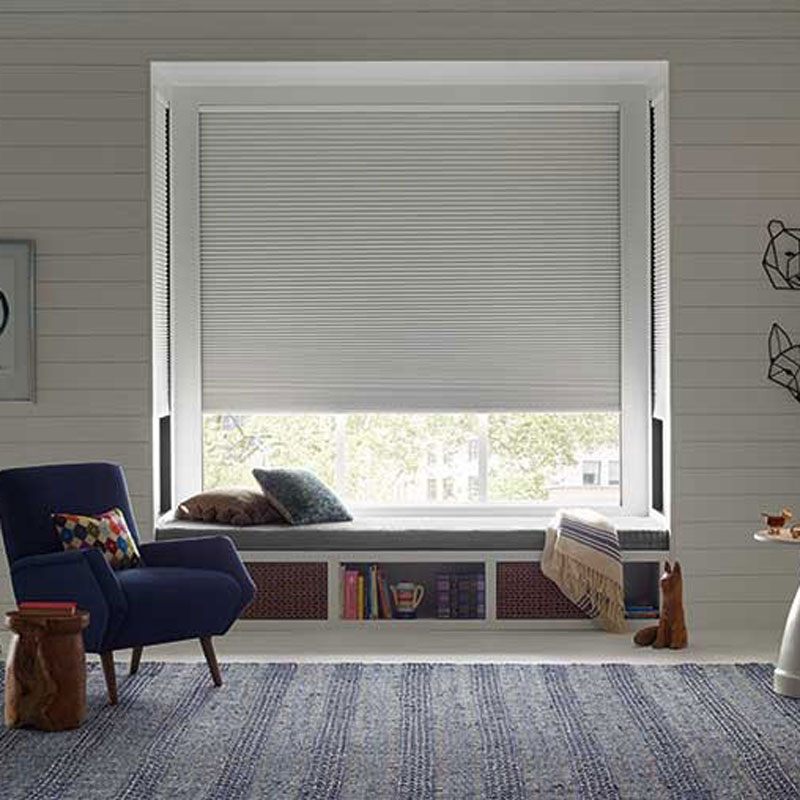 Duette® Honeycomb Shades
Energy Efficiency A-List
The Attachments Energy Rating Council (AERC) is an independent organization, partially funded by the U.S. Department of Energy, whose mission is to provide consumers with reliable information about the energy performance of window attachments (blinds, cellular shades, roller and solar shades).
Hunter Douglas is the first company to receive an AERC certification for interior window coverings. Currently, Duette® (including the Alustra® Collection) and Applause® Honeycomb Shades, Sonnette® Cellular Roller Shades and select Designer Screen Shades are AERC certified.
And on the AERC website, you can search for AERC certified products and compare window attachment ratings in categories such as Cool and Warm Climate Ratings.
Adding Smarts to Your Shades, Drapery, and Shutters
To capitalize on the energy efficiency you get from shades, you need to raise and lower them as necessary, depending on the time of day and time of year. But what if you're not home, or simply busy?
That's where automated shades (as well as automated drapery or shutters) can help.
Automated window treatments add convenience to your day to day, while making it easier to save energy. With PowerView® Automation, you can schedule your window treatments to move according to the schedules you set. That way, they'll be in the best positions to block heat loss when it's cold or keep out harsh rays in the summer. And if you integrate your PowerView Hub with a compatible smart-home system, you can program your window treatments to adjust in response to light- and temperature-sensor commands sent from that system.
For instance, when your home reaches a certain temperature, you can set your shades to automatically lower, blocking light from entering the room. This provides better insulation, blocks solar heat gain, and also prevents the sun from fading and deteriorating your fabrics, carpet, hardwood floors, and other wood surfaces.